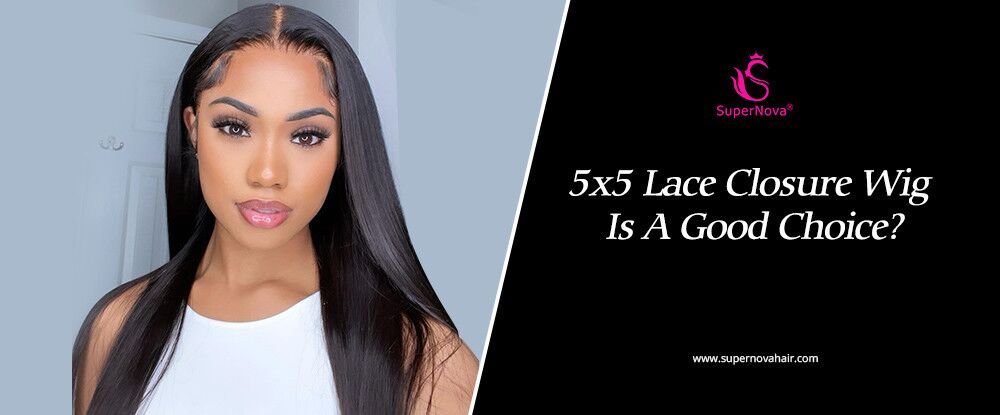 People who are with many times to purchase lace wigs must know what are lace closure wigs. The lace closure wig is one of the main types of lace wigs. If you are new in the wig market or if it is the first time that you decide to buy a hair wig, you may don't really know about 5x5 lace closure wigs. There is some helpful information that can help you deepen the understandings of this kind of lace closure wigs. The word does not say more, let's begin to read the article today!
1. What are 5x5 lace closure wigs?
First of all, I will give a full description of 5x5 lace closure wigs. What are 5x5 lace closure wigs? According to the name, the 5x5 lace closure wig is one kind of lace closure wigs that has a lace closure with 5 inches depth and 5 inches width. And every lace closure is set in the middle of a human head.
The primary construction materials of a 5x5 lace closure wig include a 5x5 lace closure, several 100% human hair bundles, an elastic cap, some combs, and an adjustable strap.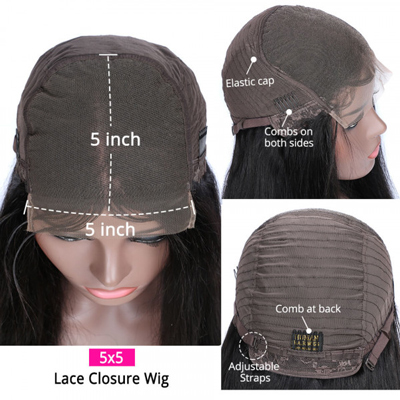 2. Why choose 5x5 lace closure wigs?
2.1 Comfort and Breathability
Previous regular hair wigs without lace are poor comfort and breathability. After the hair wigs were upgraded and added lace which makes a huge difference to your comfort level. Just like this 5x5 lace closure wig, the lace closure makes this hair wig more comfortable, breathable, and lighter than regular hair wigs.
2.2 High Quality Wig
We used all the best-quality construction materials of this 5x5 lace closure wig. Like 100% human virgin hair, durable Swiss lace materials, etc. And every wig we have done pre-plucked with baby hair around for a natural hairline before shipping out.
2.3 Competitive Price
Compared to other lace wigs like the cheap lace front wigs or full lace wigs. 5x5 lace closure wigs have smaller lace areas than other lace wigs. So they have a price advantage in price competition. Students or people who have a limited budget can consider buying this high cost-effective lace closure wig.
2.4 Easy to Install
As we said above, every 5x5 lace closure wig has a lace closure with 5 inches wide width. The width of a 5x5 lace closure is not as wide as a lace frontal of lace front wigs that can cover a human's forehead from ear to ear. It is more convenient and easier to install. Sometimes people even don't need to use glue, just use combs and an adjustable strap can secure a lace closure wig perfectly.
3. Where can buy perfect 5x5 lace closure wigs?
SuperNova Hair is an ideal hair company that has many different types of 5x5 lace closure wigs. Various curl patterns and lengths can fulfill your needs greatly. There are six main different hair textures of these 5x5 lace closure wigs: body wave hair, curly hair, loose deep wave hair, straight hair, deep wave hair, natural wave hair.
The body wave 5x5 lace closure wig is our special recommendation. Body wave hair is always one of the best-selling hairstyles in our store. It is a special wavy hair texture. Body wave have bigger and looser curls than other wavy hairstyles that can show a more natural and casual look. Compared to the classic and boring straight hair, it is more changeable and attractive. Such a perfect hairstyle with a perfect wig type, what a perfect match!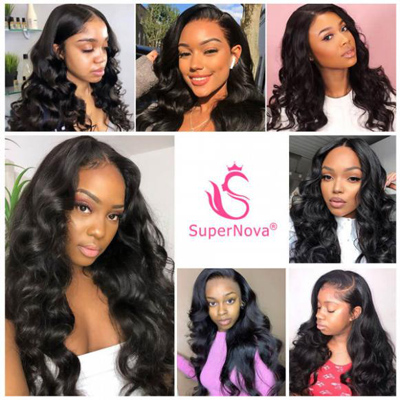 Besides a wide range of hair textures, we also have a unique hair color: 99J Burgundy. This is an unusual hair color. Although it is not a very bright color and does not have any outstanding beauty, many people love its warmth, difference.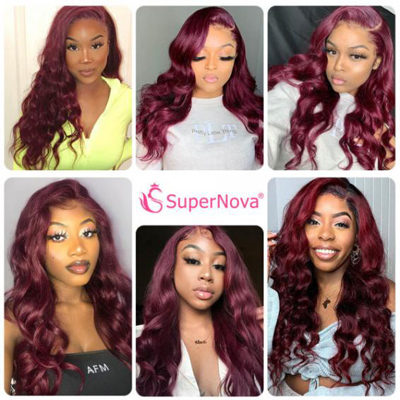 Want to get a perfect hair wig? Just come and shop in SuperNova Hair!