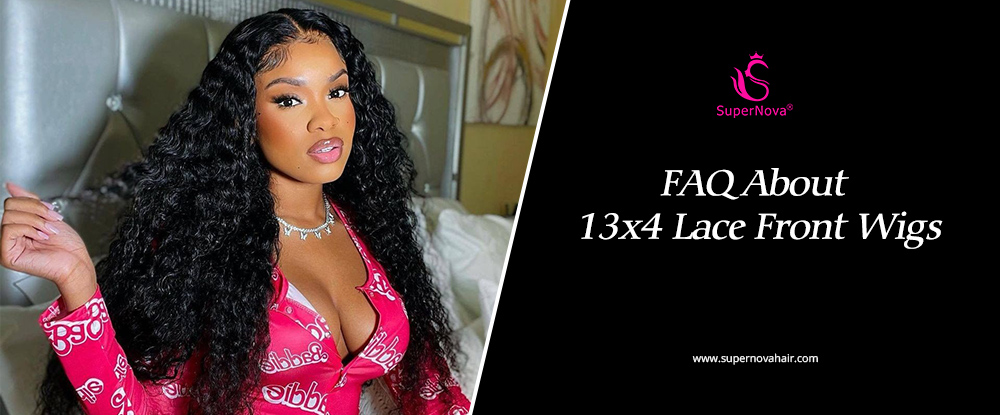 A lace front wig is your secret to be glamorous and enjoy a more realistic appearance. They were recommended highly by the influencers on the major social media platforms. If you watch some videos about wig tutorials or displays, it's shocking to see the makeover after the celebrities slayed the lace frontal wig. Right now you can have the chance to be a representative of fashion and beauty. Read this post and gain more information about lace frontal wig.
What Is A 13x4 Lace Front Wig?
Lace front wig human hair has been ubiquitous in the wigs market for more than a decade, especially 13x4 lace frontal wig. It's composed of 3 main parts, Swiss lace mesh, wig cap, and virgin human hair. Virgin human hair was tied by hand to the lace base and the wig cap. The lace in medium brown or transparent color to match the complexion well has the size in 13 inches wide by 4 inches deep, which ensures that your frontal edges can be covered entirely. This type of wig also allows you to have a free part and the appearance of a genuine hairline. No matter what hair issues you suffered, like hair loss, bad hair, choosing a lace frontal wig is great to change your hairstyle safely and wisely.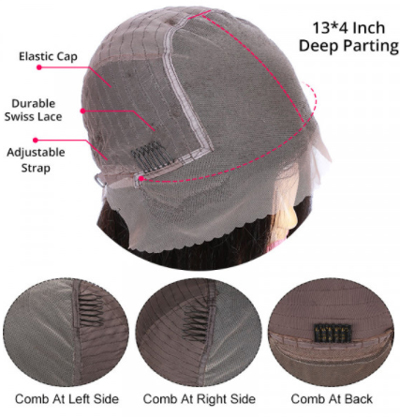 How To Wear 13x4 Lace Front Wig?
Selecting a good lace front wig is vital, however, the donning of the wig seems to decide on the final result. If the wig is slayed in the correct way, you will have an amazing transformation. Here are some basic steps and tips for your reference.
Step 1: Flatten your hair. You need to prepare your hair first before putting on a wig. You can brush them back if you have short hair, or braid the hair into a corn crown style if your hair is a little longer, then put on a wig cap.
Step 2: Fix the cap on your head. Apply some adhesive or tape between your frontal edges and the cap and blow-dry. Install the wig from the back and adjust the edge of the wig so that the hairlines match.
Step 3: Form a natural hairline. Apply the adhesive along your entire hairline to make the wig hold, then trim excess lace from the front of the wig. Comb several strands of hair, trim, and make some subtle baby hair if you like them.
Step 4: Style your hair. Comb the hair with a wide-tooth comb, apply some mousse if needed. Heat-styling tools can be used to restyle the hair because the wig is made of virgin human hair. You can treat it like your natural hair.
How to Clean 13x4 Lace Front Wig?
If you want to prolong the wig lifespan, you have to master the basic methods to maintain a wig. Firstly, take off your wig. Remove adhesives with a special wig adhesive remover and be careful not to tear the lace in case the lace got broken. Secondly, brush tangle from the wig, then rinse the hair with lukewarm or cool water and spread shampoo meanwhile use your fingers to detangle the hair. Thirdly, rinse the wig with cool water until the wig is totally clean, then squeeze the hair slightly with a dry towel. Lastly, apply some conditioner on the hair evenly and wait for few minutes for the hair to absorb the conditioner. Then completely rinse it out with lukewarm water, use a dry towel to pat the hair gently and place the hair on a wig headstand and let it air dry.
How to Get 13x4 Lace Front Wigs?
If you're new to the world of wigs, one style you'll likely come across is the lace front wig. SuperNova Hair features a great number of wigs, and you'll find the most popular options there. The stylish textures including straight, body wave, deep wave, loose deep, curly, water wave lace front wigs in natural black, chic burgundy, pure blonde, shine highlight are available currently. Various hair lengths can fit your shape well. Make an investment in being impressive and try a cost-effective and high-quality lace wig from SuperNova Hair Store and have the best shopping experience.