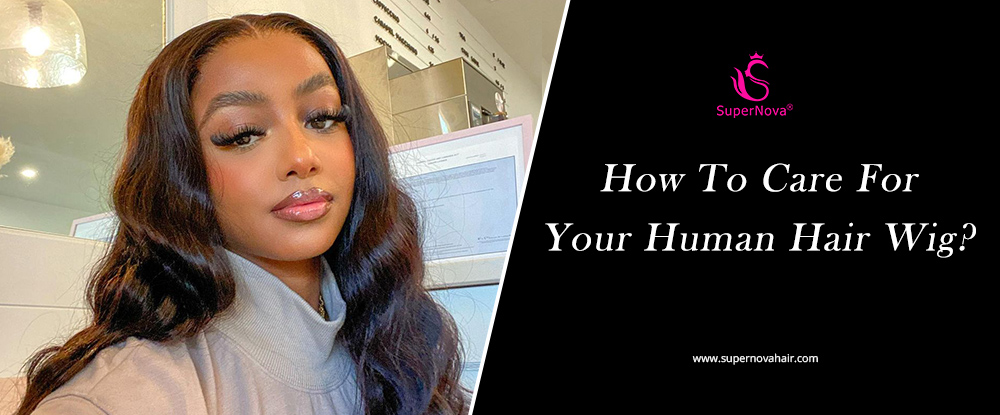 It is important to know how to care for your wigs. Because it will help you get a wonderful wig look and also help you save money and time on purchasing other wigs. SuperNova Hair wig is 100% virgin human hair that has not been processed such as colored, bleached and permed, so it will last for a long time. To keep its original pattern, here are some knowledge that you need to learn.
For different kind of human hair wig, here are different hair care knowledge that you need to learn.

1. For Straight Texture
Less is more when it comes to straight hair. When you do the hair care for the straight hair, please use small amounts of hair care products. Lightweight serums are best for this hair type. For detangling or daily maintenance use a wide tooth comb or paddle brush.Do not use products that contain sulfate, parabens, or alcohol. These will dry out hair and cause tangling including shedding.

2. For Curly Texture
This hair requires more hydration than straight hair due to the texture. A light serum and leave-in conditioner will help keep the curls moisturized and tangle-free. A quarter size of each product is enough to avoid heavy amounts of product. Apply mousse to keep the curls looking defined. For detangling or daily maintenance use a Wide tooth comb including a denman brush to keep curls nice and bouncy. Avoid using a fine tooth comb for curly hair as this will cause tangling and excessive shedding. Please use products that contain no sulfate, no parabens, no alcohol as these will dry out hair and cause tangling including shedding.

For different time, here are different hair care knowledge.
1. Day Maintenance
A. Always comb or brush through hair using the appropriate tools for textures. Bruch the wig or bundle from the bottom to middle to the top gently with your love~
B. Hair has to be washed and conditioned at least twice a week.
C. If hair has to be put in a ponytail do not use a rubber band, use a soft fabric or satin hair scrunchie to avoid tangling and dryness.
D. When using hot tools, we suggest temperatures under 350F=175C degrees for colored hair, and under 400F=200C degrees for natural colored hair to avoid dryness. Do not leave any hot tools on the hair for no more than 30 seconds. Once done styling your hair, clean your hot tools.
E. Place your wig on a wig stand or mannequin head when not wearing your wig.
2. Night Maintenance
A. Always tie hair up with a satin hair scrunchie or into a satin bonnet; alternative satin pillowcase.
B. Use a terry cloth lined shower cap to preserve style of hair and block out any water or moisture trapped in hair.
C. If wearing lace frontal, Use a washcloth to wash face avoiding forehead area to avoid lace lifting
Your wig is a symbol of fashion life. It gives you flexibility to wear a variety of styles. If you learn the above the tips, it will be easy to care for your wigs and keep them well.
Now there are the big discount in SuperNova Hair. Buy one get one free wigs. Don't miss it. Join Now!