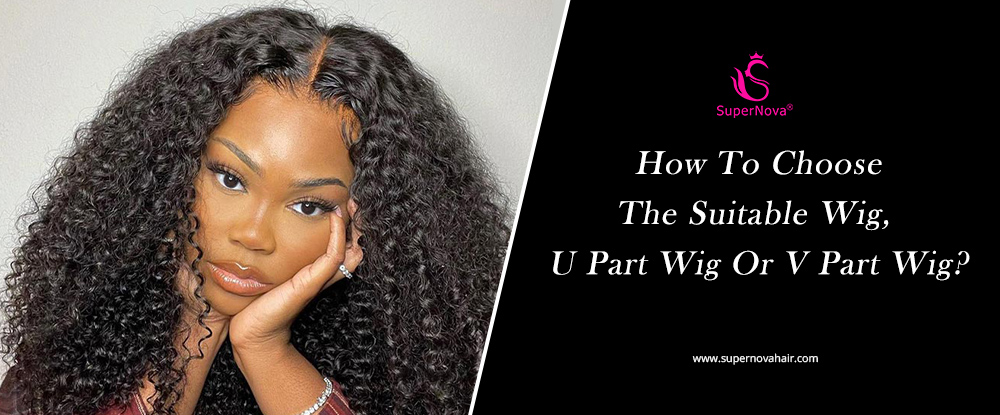 With the continuous emergence of wig products, correspondingly, we have more requirements for wigs. We always hope that wigs can be more comfortable, more convenient, and more affordable. In this year, glueless wigs seem to be welcomed by more and more people. U part wigs and V part wigs are two representatives.
These two types of wigs are absolutely beautiful and can help enhance your look regardless of which one you choose. However, which one should be chosen has become a trouble for many people, especially for those who don't know much about these two kinds of wigs. Don't be worried, We show you the details of the U Part Wig and the V Part Wig.
U part wig is those which have a hole on the side of the top of the wig in the shape of U. These are made with pure human hair and do not shed or have split. They blend so well with your natural hair and do not require any lace or glue. They are quite breathable, and the wigs come with adjustable straps and clips inside the wig cap which can help stabilize the wig in place.
A U part wig refers to hair extensions that are sewn on a U-shaped wig cap that features fine sheer mesh and clips underneath. Typically, U-part wigs come in an array of sizes to suit your needs. There is a U part opening at the top or side of u part wig cap, which enables cover up the traces of the wig by blending your natural hair leave out over the top of your wig, leaving you with a hairstyle that looks as if it is growing out of your scalp!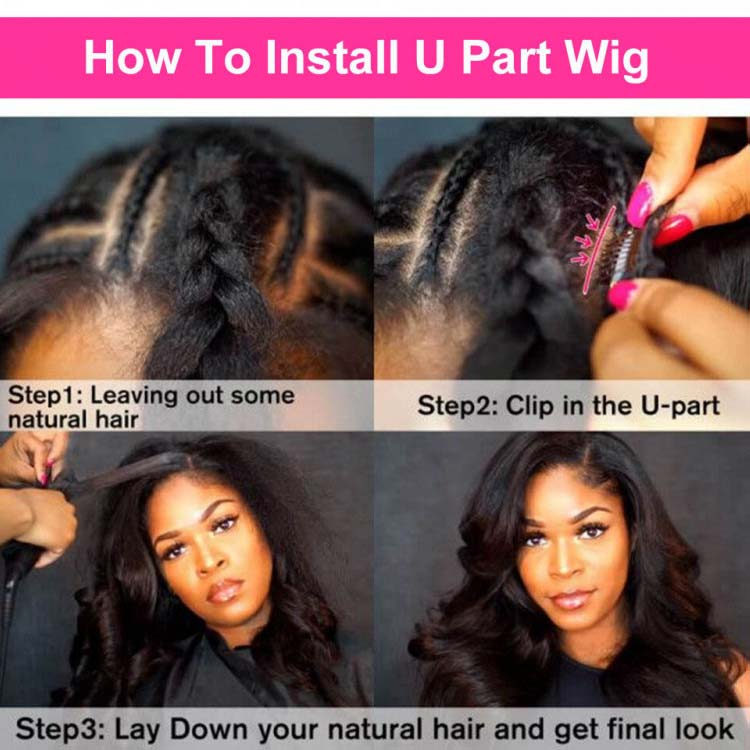 A V part wig is a wig that is modified half wig with a v-shaped opening at the top. Another name for a V part wig is thin part wigs. The V shape opening tends to give a more natural hairline. As U part wigs, V part wigs generally do not come with lace nor do they require glues or gels at all. One of the best things about V part wigs is that they blend with your natural hairline quite perfectly, which makes it hard to tell the difference between your hair and the wig's hair.
There are so many advantages of owning a V part wig. Firstly, as highlighted above, these are so easy to wear that it hardly takes up any time to install them. Not only that but you can quickly change the style of your hair as they glide on and come off so smoothly and swiftly. Another great part about these wigs is that there is a v part leave out which allows your hair to be able to breathe and you can access your hair easily, to care for them. This also allows your natural hair growth to run its course.
These v part human hair wigs are made using machines and are a lot more affordable in comparison to lace wigs. The most loved feature of these wigs is that they are highly flexible when it comes to creating new hairstyles, with the use of clips, hair bands, and so on. This makes them the best for beginners and even for people who are pros of wearing wigs.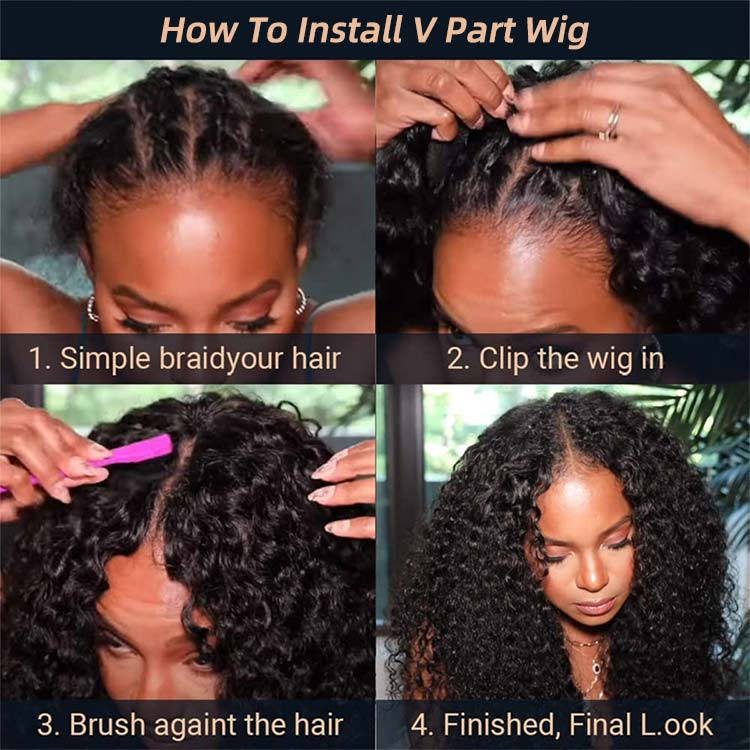 If you have thin hair, a V part wig will be more suitable for you. Because you just leave little or no natural hair with a V part wig.
If you think leaving much natural hair to make the wig more natural and want more hair to breathe, a U part wig will be a better choice.
V part and U part wigs are both convenient and affordable wigs. More importantly, they work well for showing your beauty. If you have never tried, give yourself a chance to have a try, and you may fall in love with them. Besides, there are various V part wigs and U part wigs for sale.
Now there are the U Part Wigs and the V Part Wigs in SuperNova Hair store. You can choose the one which you like. There is the curly u part wig, v part curly wig, body wave u part wig, body wave v part wig, kinky straight u part wig, kinky straight v part wig, straight u part wig, v part wig straight. There is also extra 6% off.