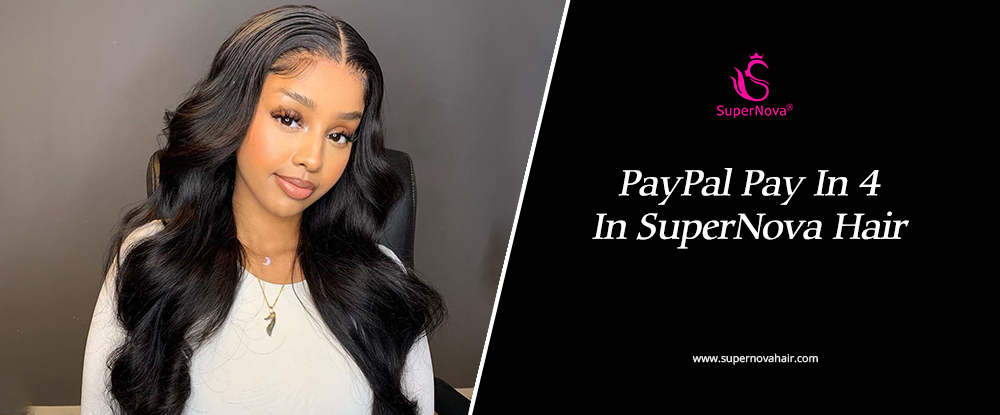 Most people can not afford to pay in one big lump sum. And to some extent, a human hair wig also might be a luxury item. It is not something most people can afford to do on a daily basis. Everyone has the right to pursue beauty. How to fix this money problem? That is the topic for today, I will introduce what is pay in 4.

1. What Is Pay In 4?
Pay in 4 is a new form of payment, you can Buy Now, Pay Over Time. This way can help purchasers to finance their purchases in four smaller installments. Before, people usually needed to process a lump sum payment with PayPal. Now people can pay for their preferred goods in dribs and drabs, not all at once.
2. What Are The Advantages Of Pay In 4?
The reason I suggest this new payment is that it does has some advantages.
2.1 Purchases Become More Affordable
Some custom-made human hair wigs or high-quality human hair wigs are a little expensive for people. Pay in 4 can help make the purchases become more affordable. Everyone can have their preferred hair wigs in this way. And it is also an interest-free payment. You just need to pay off your purchase in six weeks.
2.2 High Security
As a new form of payment of PayPal. You don't need to worry about security, Paypal will be assured of your safety. Most US online commerce goes through PayPal.
2.3 Can Be Used In Extensive Range
There are millions of online stores where you can Pay in 4. Finance items range from $30 - $600.
2.4 Easy To Apply
Only need 3 steps to apply.
1) Choose PayPal at checkout and select "PAY LATER", then you can see "PAY IN 4".
2) You can start to complete your purchase.
3) Pay a down payment today, and pay the rest in 3 payments - one every two weeks.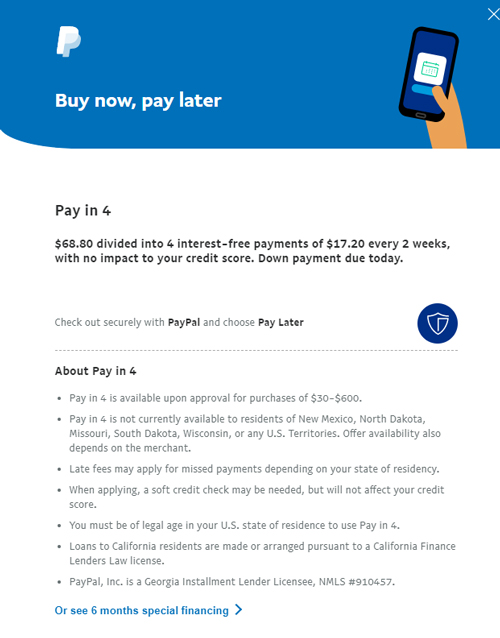 3. Where Can Use Pay In 4?
Pay in 4 is available for all hair products in SuperNova Hair Store. SuperNova Hair is an experienced hair company who is established in 2000. It is located in Xuchang, Henan - one of the hair centers in China. SuperNova Hair always specializes in manufacturing high-quality 100% natural human hair products, such as hair weave, lace closures, lace frontals, lace wigs, etc.
Next, I will recommend two hot-selling hair wigs in SuperNova Hair.
3.1 HD Lace Wigs
The HD lace wig is a special type of lace wigs. It is different from other regular Swiss lace wigs. It is an upgraded version that has the most undetectable lace. HD lace is ultra-thin, ultra-premium. It can melt into any skin color and looks more realistic. So HD lace wigs always can offer people perfect hairlines.
There are two types of HD lace wigs in SuperNova Hair now: HD 5x5 lace closure wigs and HD 6x6 lace closure wigs. Lace closure wigs are different from lace frontal wigs. A lace closure wig doesn't have a 13 inches width like a lace frontal wig. So it is easier and more convenient to install, even no need to use glue.
Four attractive different hair textures can be chosen: straight hair, curly hair, body wave hair, deep wave hair. No matter you like a straight hairstyle or a wavy hairstyle, SuperNova Hair can meet all your needs.

3.2 Headband wigs
Compared to the above HD lace wigs, headband wigs have more competitive and affordable prices. Because headband wigs have no lace. So a headband wig is also named beginner-friendly, and lazy girl-friendly wigs. It is easy to put on and off, everyone could complete an installation in 2 minutes. Besides, you can change your wig styles by changing headbands in daily life. One new headband one day, get the beauty every day.
Hot headband wigs now are up to 48% off, what a great deal. Come and shop in SuperNova Hair!