Most people do not know how to choose a brand of hair products. And they do want to get some recommendations of hair products brands. Today we will talk about a good hair products brand - SuperNova Hair. How to determine the quality of a hair products brand? And why choose SuperNova human hair wigs?
1. Hair Products In SuperNova Hair
SuperNova Hair produces the hair product variety, including hair bundles, hair lace closures, hair lace frontals, lace closure wigs, affordable lace frontal wigs, full lace wigs, headband wigs, HD lace wigs, U Part wigs, etc. The wigs market has been onward and upward all the way, people demand also upbeat. And SuperNova Hair always has enough resources to meet all the demands of customers. If customers have other requests, please feel free to contact or leave messages. Customer services will try their best to meet all needs. SuperNova Hair has high-level experts in the hair field and develops new products promptly according to the voice of the market and customers.
2. Advantages Of SuperNova Hair
2.1 Adequate Supply
SuperNova Hair is an experienced hair factory that was established in 2000. After years of unremitting efforts, they have had a set of mature, perfect, and advanced technology in the hair products production line. So SuperNova Hair can guarantee continuous production and adequate supply.
2.2 High-Quality Hair Products
How to get high-quality hair products? Good products always need to take good raw materials. Using the best quality raw materials is also a good way to reduce waste and increase yields of the best quality hair products. All hair products in SuperNova Hair are made of 100% virgin human hair. And all hair lace products are made of high-quality Swiss lace. Advanced production technology guarantees the hair products' quality and stability.
2.3 Fast Shipping
SuperNova Hair has already established successful cooperation with many famous Courier companies. Like FedEx, USPS, DHL, etc. If you buy a wig on the official website, it only needs to take 3-5 business days to most countries worldwide. People always enjoy the convenience and efficiency of shopping online.
2.4 Competitive Price
The price normally is the first consideration when people are buying something. Competitive wholesale factory prices with high-quality products always can attract people. SuperNova Hair supplies the goods directly from the factory. Remove the additional charges from the middleman. People can have the most preferential prices for hair products.
2.5 Secure Payment
When people shop online, they need to pay for the commodities by electronic payments, so some people may concern if this is not safe for online shopping. It is essential that the company can ensure the security of customers' payments. SuperNova Hair can accept some common and secure payment methods like Papal, Card, Wire Transfer, Western Union & Money Gram.
3. Most People Love SuperNova Hair
After years of unremitting efforts, SuperNova Hair gains the trust of both domestic and foreign customers and sells hair products well all around the world.
Below are some reviews from customers. All the people love SuperNova Hair.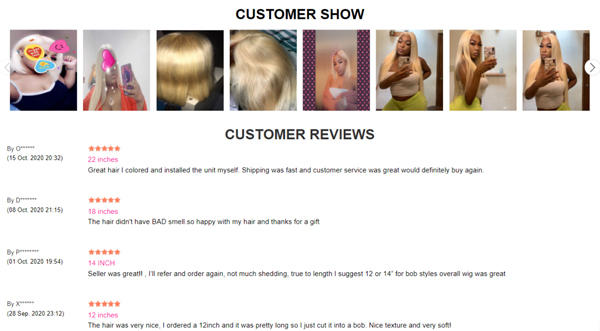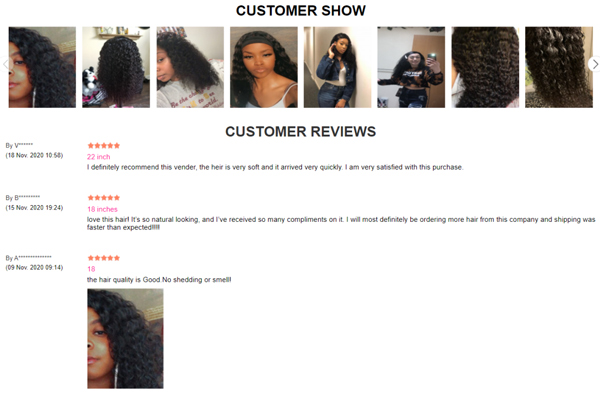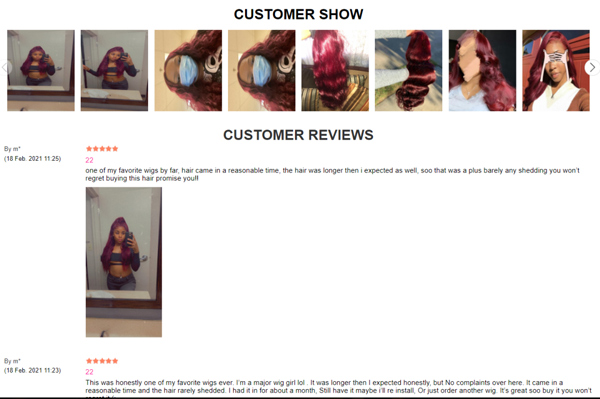 4. How To Buy Hair Wigs On SuperNova Hair?
Firstly, you can enter the official website: SuperNova Hair. Then you can see the navigation bar. The navigation bar has active links to the main menu and the section menu. You can click the links of pages that you want to go to.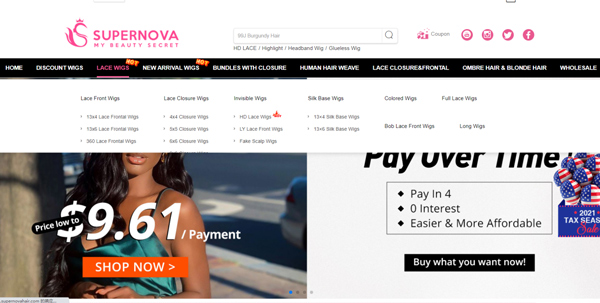 After entering a specific page, you can choose your preferred hair products and click the link.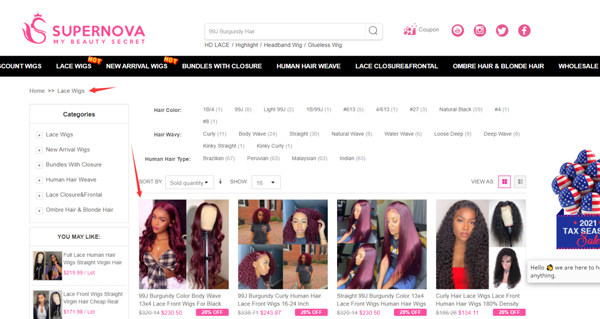 Then you can start to shop, choose your preferred hair colors, hair lengths, and quantity. Finally clicking "BUY NOW", and fill in the name and address of the consignee, finish the payment. After SuperNova Hair gets your order, will arrange the shipment as soon as possible.