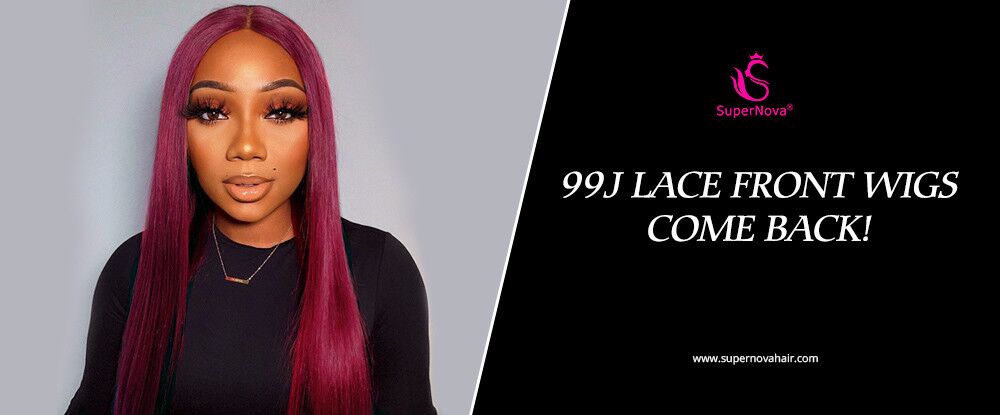 Burgundy is popular this season, adding a pop of color to the usual white-on-white winter theme. Burgundy hair also can make people more of a casual and social look, and work best when your outfit has the same pattern or color as 99J Burgundy color as well.
99J Burgundy lace front wigs are always one of the best-selling hair wigs in SuperNova Hair, and we have a huge selection of 99J lace wig styles at good prices online. SuperNova Hair is keeping up with the latest 99J human hair fashion trends, today's article will help customers to choose beautiful and favorite 99J burgundy hair lace wigs and bundles.
1. What Is The 99J Burgundy Lace Front Wig?
Lace front wigs are one of the common lace wigs. A lace front wig normally is made by 100% virgin human hair bundles with a lace front that can completely cover a human's forehead from ear to ear. So lace front wigs always can offer people more natural and real looks even can make other people don't feel you are wearing a wig now.
In addition, making the 99J Burgundy a fundamental key for winter is good, also can convey the upcoming New Year's Day festival atmosphere.
Now we have two kinds of hair colors of 99J Burgundy: light 99J and dark 99J.
Note: Light 99J Only Have 10-30 Inches In Available, Dark 99J Only Have 20-30 Inches In Available.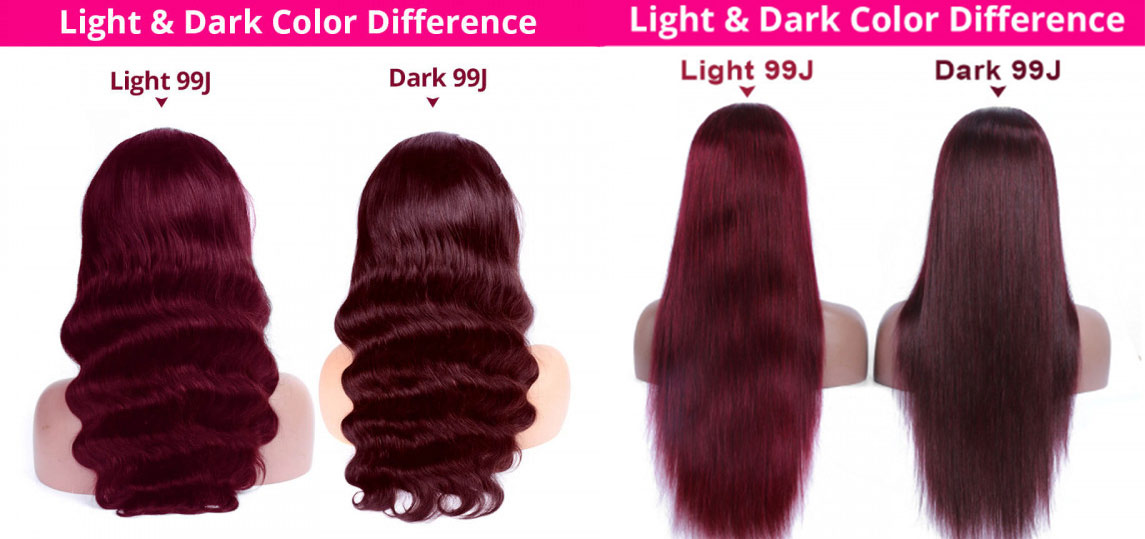 2. Recommendation Of Four Hot-Selling Hair Textures Of 99J Lace Front Wigs
Besides, when it comes to the tone or look of a hair wig, the hair colors play an important role, so do hair textures. Different hair textures of 99J lace front wigs have different feelings. Then I will introduce four main hair textures of 99J lace front wigs in SuperNova Hair: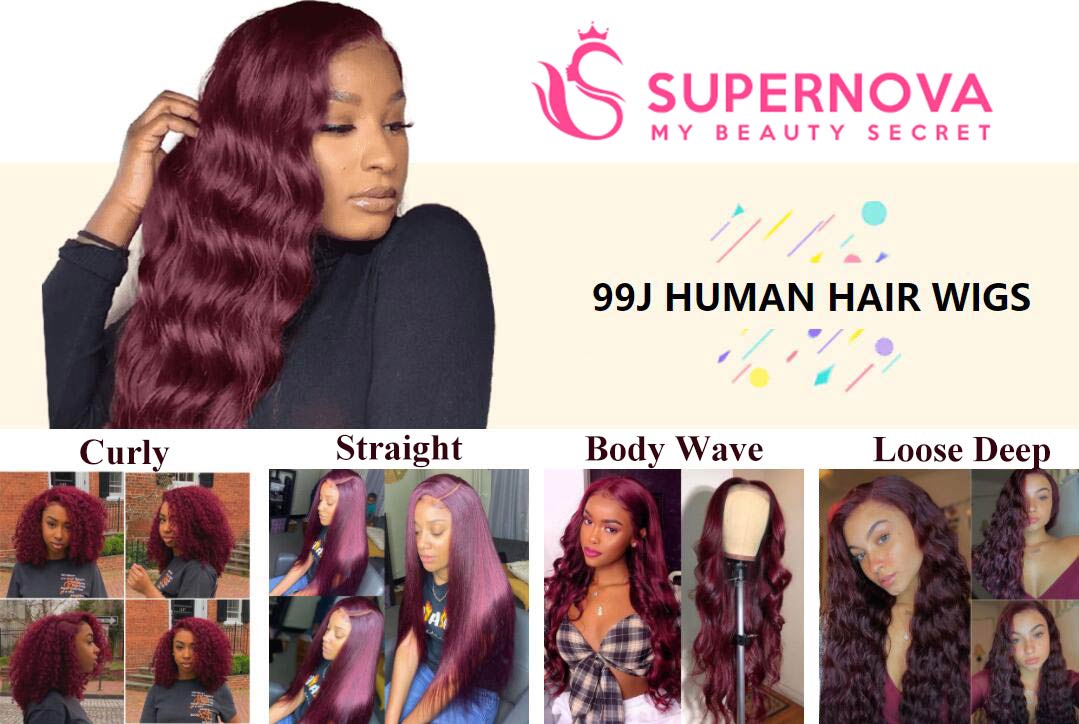 People who have curly hair always can look naturally shining and also can make people stand out in the crowd. That's why most customers love curly hair, especially African American women. Curly hair has tighter and irregular curls than the other three hair textures that can make hair wigs appear fluffy and soft. It can give clear elasticity, and enhance layering.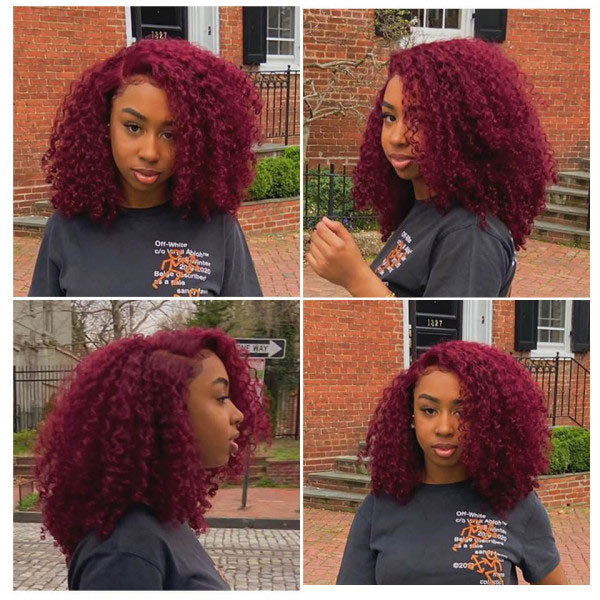 2) 99J Body Wave Lace Front Wigs
Most people think the most natural-looking hairstyle is the body wave hairstyle. It is an "s" shape wave which that looks like a real human hair wave. As body wave hair is not too straight and not too wavy, it can maintain a natural look for people.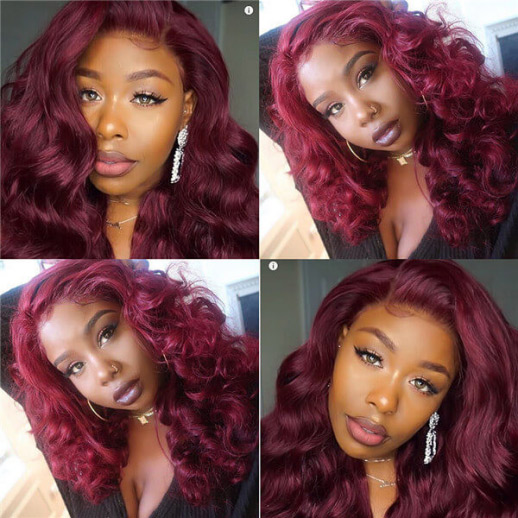 3) 99J Straight Lace Front Wigs
Long natural straight hair look makes a pure and plain young lady. Although straight hair is simple, it is generous and elegant. If you used to have curly hair before, now you can consider having a try a new straight hair to celebrate the upcoming festival.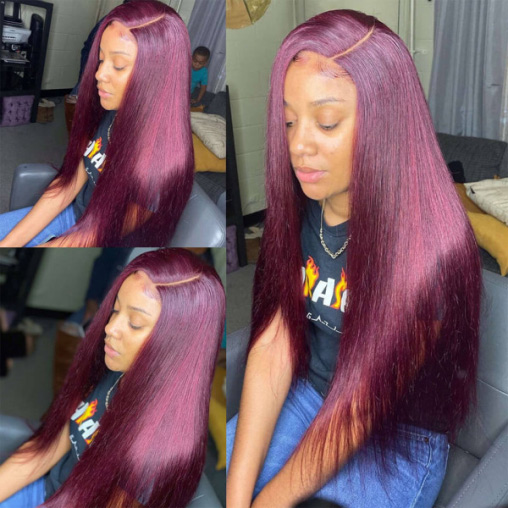 4) 99J Loose Deep Lace Front Wigs
Loose deep is a ladder-shaped hair texture, ups and downs in the same direction. It has a different level of curls, it is a little looser than the deep wave. For people who like loose curls more, this is a great choice for you.