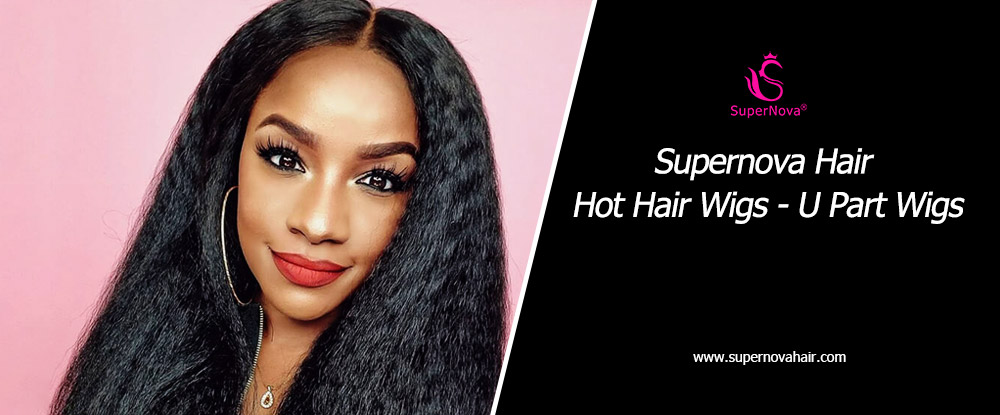 Supernova Hair is a hair shop online that own all types of human hair, so today I will introduce a hot and has special shape wigs - U part wigs.
First, we should know what is U part wigs: U Part wigs is 100 % human hair that can be kept natural and true. And U Part wigs is an invisible half-wig and sewn on a u part cap with clips and adjustable straps on the back.
Second, I will introduce Part One: How To Install U Part Wigs.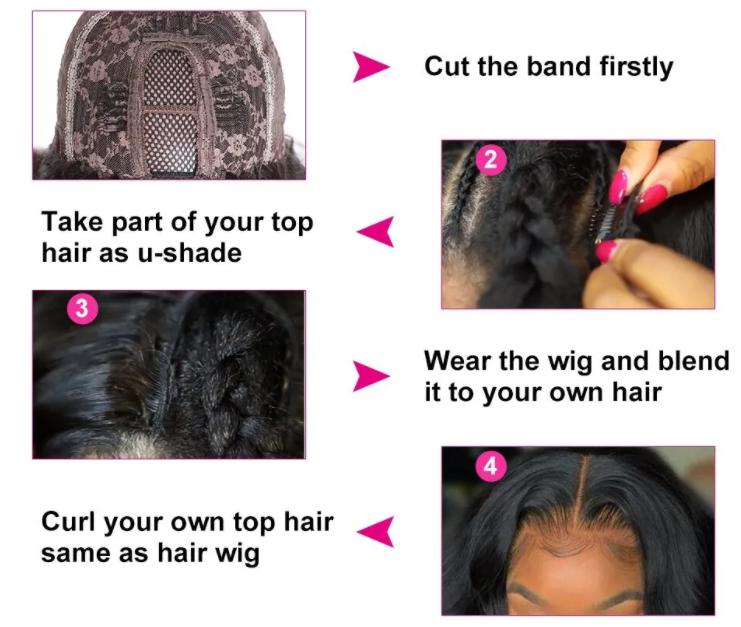 1. Trim your own hair
When you install the u part wig, you must make your own hair on their place. Only finish this, you can take the next steps.
The owners ought to divide your hair into several parts, and make all parts of your hair into small braids, so that you can easily wear the wig, especially the hair on both sides of your cheeks.
You must make it be flat on your scalp. The purpose is to make your hairline more clear and set the u-shaped hair in advance.
2. Loosen the exposed hair
Then put the U part which adds two clips onto both ends of the U part on your hair, and then see if the size is appropriate. If not, take it off and then adjust the clip.
In this step, you can loosen the part of exposed hair, so that the installation is basically complete.
3. Order the U part wig
The above steps you have done, it's time to arrange the hair after wearing a wig, you can take a splint to do some modeling, and then use makeup spray qualitative.
When you have done these steps, it's proved that you have put the u part wig on your hair.
Congratulations!You've learned how to wear this wig.
Part Two: How To Wash It
First, add warm water to the sink on the washstand, the water just is over the hair is ok! Then pour in the shampoo,let it soak, gently rub and repeat.
After repeated many times, replace it with clean water and repeat until there is no foam.
Then, apply conditioner to the wig, apply it to every area, massage it gently and put it in a plastic bag for 30mins to soak in the conditioner.
After that, it's time to wash it off, a step to make the wig more supple and less dry.
Finally, carry on air to bask in to its, during again can daub a few protect hair essential oil, make 2 nurse, become more compliant.
U part wigs are also human hair, so washing it is same with washing our own hair.
There are two points that you must know when you washing it.
1. Avoid chemicals
Supernova Hair are 100% human hair. Chemical and coloring treatments can damage it.
2. Shampoo
Shampoo is fine to wash the wig. Choose the mild product to clean it. Wig shampoos and wig conditioners are necessities.
Part Three: How To Care For u Part Wigs
The U part wig is open at the top of your hair, so your own hair there should not be sparse, and your hairline is the same with it.
While you wash it, you shouldn't use a comb, just by your hand. This is beneficial for caring it.
After your washing, you can use elastin. Leave-in conditioners, it will become more sere. So using elastin do better for your wig.
Caring for u part wigs is just like caring your own hair. It needs more patient.
A U-part wig allows you to blend your own hair through a specific "U" shaped opening at the top of the hair. You can mix the exposed hair to make the hairline look more natural. It is easier to wear and can increases hair volume. Buy U part wigs human hair on SuperNova Hair.