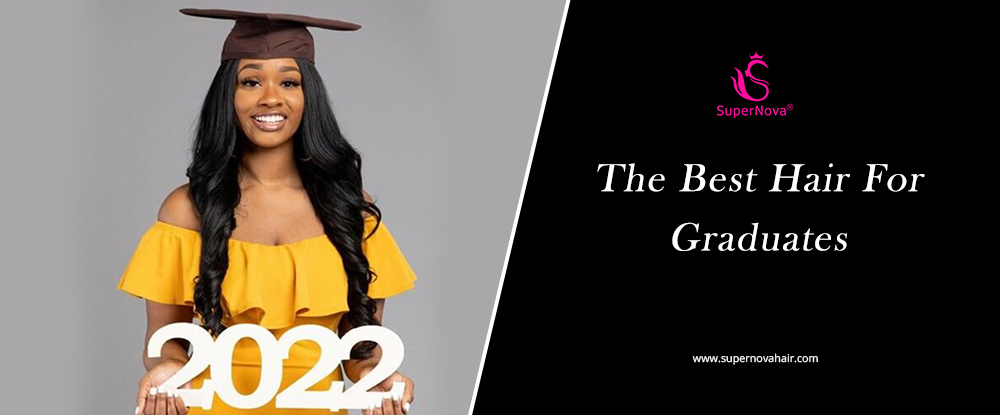 Graduation season is the time of year when families and friends come together to celebrate accomplishments of completion along the educational path. It means one has put in the necessary work to move on to the next phase of their life.
SuperNova hair has prepared Super Deal for graduates. There is the buy one get one one free products. When you buy the product, there will be two wigs in your package. One is the one which you paid, the other one is the free random 8-14inch bob wig. Two different wig to make you two different styles. There is also the code to save money. Order Over $159, Get Extra $10 Off; Order Over $259, Get Extra $20 Off; Order Over $359, Get Extra $30 Off;

1. HD Lace Wigs
HD lace wigs simply mean wigs made by HD lace frontal which is undetectable and invisible. HD lace frontal is so popular in the market. HD lace is a kind of Swiss lace which is transparent. No matter which skin you are, it is easy to make up as your own. The HD wigs in SuperNova hair store has a clear pre-plucked hairline. When you wear the wig which is just look like your own hair grows out of your head. When the master sew human hair in the lace, it will be a knot on it, these knots can be bleached. This can make the wig looks more natural not fake. In order to make the wig looks natural, supernova hair also make baby hair around which used to decorate your forehead. All the hair we use on the wig is real human hair natural black without chemical and unprocessed. You can bleach, dye, or perm your wig into any style you like.

Headband is perfect for any wig wearer regardless of hair type, texture, or consistency! This amazing band eliminates tension and headaches, prevents bald spots, and safely secures your wigs, scarves, and beanies in place.
Headband wigs are great protective styles for wig beginners, they're quick and convenient hairstyles. No lace no glue. You can just throw it on your head & go in seconds. It's a lifesaver on busy days, fitness days, and unexpected meetings. Head Bands are optional, you can choose whichever you like.
Headbands For a style that can be dressed up or down, you can never go wrong with a headband! Our headband wigs and hairpieces are the perfect way to embellish your look no matter what the occasion.

Highlight wigs have a lot of different hairstyles. Brown hair with blonde highlights, black hair with brown highlights, highlight lace front wigs, highlight bob wigs, highlight curly wigs, highlight wig with headband, black wig with red/pink/green highlights, and more. You can see more and more human hair wigs with highlights in SuperNova Hair Store.
If you want to add some depth, dimension, and sassiness to the color of your wig, then choosing a highlight wig is the most appropriate thing to do. A highlight wig makes the faux hair looks realistic and people won't even realize that you're wearing a wig! Graduates who choose a highlight wig show off their style, their confidence, and their personality.

For graduates who are now entering the new environment, it might be a considerable expense for preparing outfits that suitable for their coming job. Considering the limited financial capability of graduating students, SuperNova Hair is offering more privileges for them with a more affordable price of the products during the graduation season, hoping that they can enjoy the fashion and beauty looks brought by SuperNova Hair.