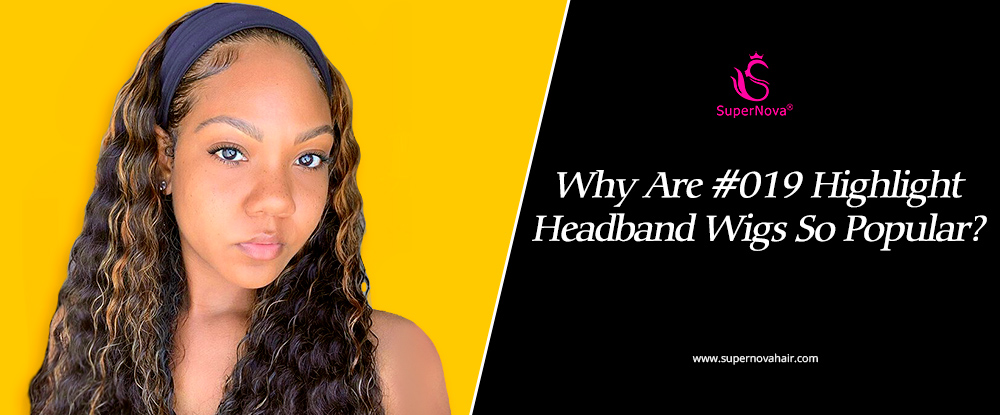 Many people would like to go to New Year parties with retro looks, as the beauty of retro always appeares ageless. The New year is coming up soon, it is time to get a headband wig for your party. Where can get a satisfied headband wig? Don't worry, just read on.
1. What Is The Headband Wig?
The headband wig is one kind of new arrival wigs in our store. The "new arrival wigs" is a new category, the hair wigs in "new arrival wigs" normally have little lace or no lace. The headband wig is a typical one that only has a breathable elastic net cap that covers 3/4 of the head, and an ice silk headband covers the rest part. It is important to note that headband wigs can use many different beautiful headbands to decorate. That means you can change your styles freely every single day in a week. One day one look, it sounds really cool.
Now Shop Headband Wigs In SuperNova Hair, Get $15 Off Only For The First 15 Orders Every Day! Come To Use Coupon To Save Money!

2. Advantages Of Headband Wigs
People choose a headband wig because it is beautiful and practical.
1) More Affordable Price
Like we said before, headband wigs have no lace, so the price will be more competitive and cheaper than other lace wigs. You'll find our prices very attractive, no matter you are a student or a person who has a limited budget. The headband wig is an affordable wig for most people.
2) Easier Installation
Also because there is no lace on a headband wig, the installation will be more convenient and easier. You will be able to quickly and easily mater how to install a headband wig. It is no need for glue, you only need to put it on your head and use clips and Velcro to secure, normally installing a headband wig only takes 2 minutes. That's why the headband wig is also named as a beginner & lazy girl friendly wig.

3. #019 Highlight Headband Wigs
Here I would like to especially introduce our top-selling headband wig - #019 highlight headband wigs in detail.
1) Hair Length
A #019 highlight headband wig has different hair lengths for your choice, from 10 inches to 30 inches. No matter you like short and clean hair looks or long and gentle hair looks. This headband wig can satisfy all your needs.
2) Hair Texture
There are six available hair textures of this headband wig now: straight, body wave, curly, loose deep, deep wave, water wave. Different hair texture has a different feeling, you can choose what you like freely.
3) Hair Color
This #019 highlight color looks special in winter, all the fashion girls don't miss it!
4) Hair Density
Everyone has their own understanding and feeling of hair density, so we offer three options for all customers: 180%, 200%, 250%. No matter you like a thin or thick wig, choosing a suitable one always can be perfect.
5) Optional Gifts
Buy one headband wig in SuperNova Hair, we will send 2 free headbands randomly as a gift. If you want to get more headbands, you can choose 5 headbands a set for $6 or 7 headbands a set for $8.5. Shopping beautiful headbands with the most favorable prices, only in SuperNova Hair.