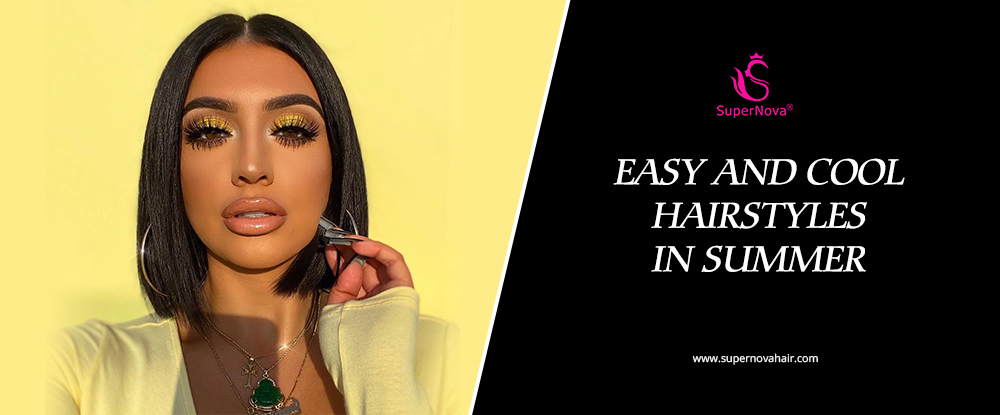 Although summer is full of fun, the weather also starts getting hot. It is usually hot in summer. Sometimes the heat even is stifling. If people want to wear hair wigs in summer, they need to choose some easy and cool hairstyles. Today's article will recommend some perfect hair wigs in summer.
1. What Kinds Of Hair Wigs Are Suitable For Summer?
If people wear hair wigs for a long time in summer, they will easily feel their scalps prickling under their hair wigs. Because the scalp will sweat easily in summer. On the one hand, sweating is one way your body tries to cool you down. On the other hand, it will easier to get chilled by the wind after you have been sweating. Normally, after perspiration, hair wigs need timely replacement. Or the rash may spread across the scalp. It is important to choose a suitable hair wig for summer. But what kinds of hair wigs are great? These wigs need to have the following three features.
1.1 Breathable
Yes, breathability is very important for a summer hair wig. This will allow more air to penetrate your wig and keep you cooler. If the well ventilated is worse, perspires future reunion very suffered. After all, comfort is essential for a hair wig for daily wear.
1.2 Easy To Wear
When considering the tempo of modern society, it is speeding up, more and more intense competitions bring people with high psychological pressure. Every morning is hurried. People need to save time on wearing hair wigs. The hair wigs in summer need to be easier to take on and take off.
1.3 Easy To Maintain
Every hair wig in SuperNova Hair is made of 100% virgin human hair bundles. A hair wig can last at least one year under proper care. An easy-to-maintain hair wig is friendly to not only beginners but also old customers.
2. Summer Hair Wigs Recommendations
Then, I will recommend some typical hair wigs for summer.
2.1 Headband Wigs
Headband wigs are also named human hair half wigs. It is a hair wig that a breathable elastic net cap covers 3/4 of the head, and an ice silk headband covers the rest part. Headband wigs don't have lace, they are only made of ice silk fabric with Velcro at back. Headband wigs are easy to wear and take off. Installing a headband wig usually only need to take 2 minutes. And it also can support doing more simple and cool hairstyles, like ponytails or buns. These hairstyles both can make you feel cooler in summer. Besides, the prices of headband wigs also are more affordable and competitive.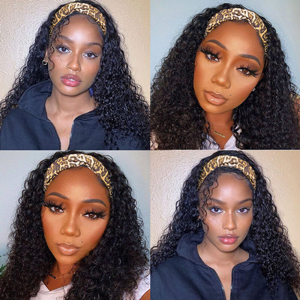 2.2 U Part Wigs
The U Part wig is a new type of hair wig. U Part wigs also don't have lace. A 2x4 U-shape is opened at the middle top of every U Part wig. People can make their own real human hair be exposed from the opened U-shape, and then blended with the hair of U part wigs. Real human hair is combined with the hair of hair wigs. In this way, people can make the whole hair wig's style more natural and real. Installing a U Part wig is also easy, no need to use glue, just use some clips and adjustable straps to secure it.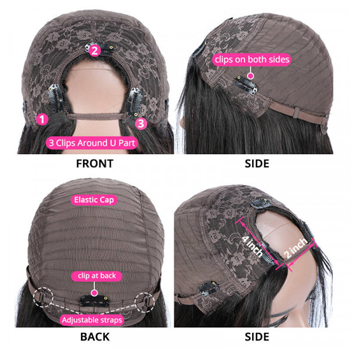 2.3 Bob Wigs
According to the hair lengths of hair wigs. Hair wigs can be divided into long hair wigs and short bob wigs. For summer days, short bob wigs are more suitable. Short hair length is cooler and easy to maintain. Compared to a long hairstyle, a short hairstyle has a different feeling. It offers people a clean and energetic look. The good-quality bob wigs can be dyed, restyled for many occasions. You can restyle your bob wig to different hair textures or hair colors, including straight hair, curly hair in #99J, #613, #1B, etc.