Summer is here, do you want to change your look? Well, you can choose to dye your hair. Because dyeing our hair can make an instant difference! However, when we decide to dye our hair, our friends will tell us that the dye won't last long and will fade in a few days. But dyeing our hair does bring us beauty.
So today I'm going to share with you some tips on how to make your hair color last. Follow me!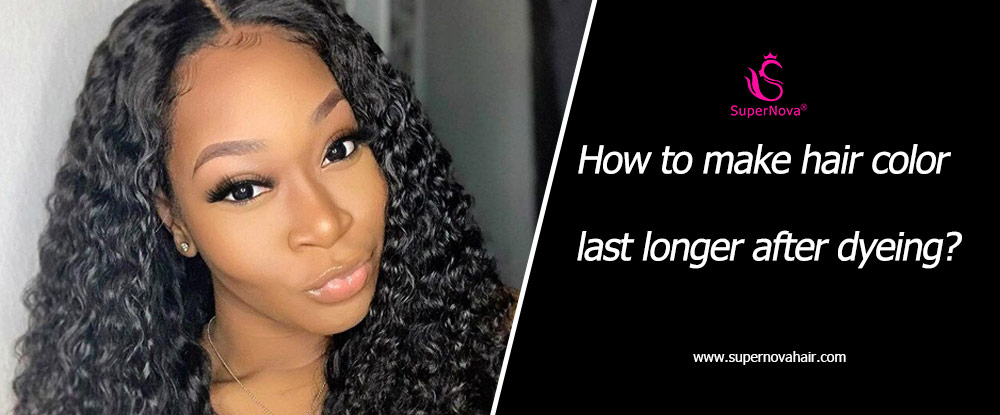 1. Don't wash your hair for 48 hours after dyeing
Because our hair scales are not completely closed after dyeing, if we wash our hair at this time, it will wash away the hair dye attached to the top or inside of the hair.
In this way, the effect of hair dye does not reach, so, we do not hurry shampoo, adhere to two days!
2. Choose a slightly acidic shampoo and conditioner
Because the hair after dyeing hair is partial alkalescent, so when we are washing a hair, had better choose the shampoo with weak acidity and protect hair element, will neutralize, balance the acid-base value of beautiful hair.
3. Do regular deep treatments.
But not too often, Once or twice a week is enough to cover your hair with a deep conditioner, which will help keep the color from fading and make it last longer.
After applying the hair mask, wrap your hair in a hot towel so that the color lasts longer.
Over time, you'll notice that your hair gets better and better. It's the best of both worlds.
Note: Do not use steam to protect your hair in the early stage of hair dyeing. Avoid the hot hair scales opening and the newly dyed hair will lose color.
4. Avoid exposure to ultraviolet rays for a long time
Since hair color changes with the sun, If you don't want your hair to turn yellow, take note !
In the summer, don't be outside too much and don't expose your hair to the sun for too long.
If you have to spend a lot of time outdoors, make sure your hair is protected from the sun, such as wearing a hat, carrying an umbrella, etc.
5. Separate perm and coloring
Perms and dyes are best not done at the same time, as both have more chemicals in them, which can do double damage to your hair. If you love your hair, do not perm and dye it.
SuperNova Hair - Your reliable virgin human hair online store for human hair lace wigs including 99j Burgundy hair wigs, 5*5 lace closure wigs and with various lengths, colors and hairstyles!
Please help yourself to select your favorite human hair lace wigs from SuperNova hair and follow us on social networks to receive our timely discount sales events and welcome to customized lace front wigs with various colors on SuperNova Hair.
To sum up, I share with you the tips, I hope to help you.
If you have any further questions, please feel free to contact us at SuperNova Hair.