If you're into fashion, the HD lace closure wig is your best bet. Hd closure wigs are one of the most popular lace wigs on the market right now because they are thin, soft, natural and easy to tie together. In HD lace wig, the most popular one is 5X5 HD lace closure wig.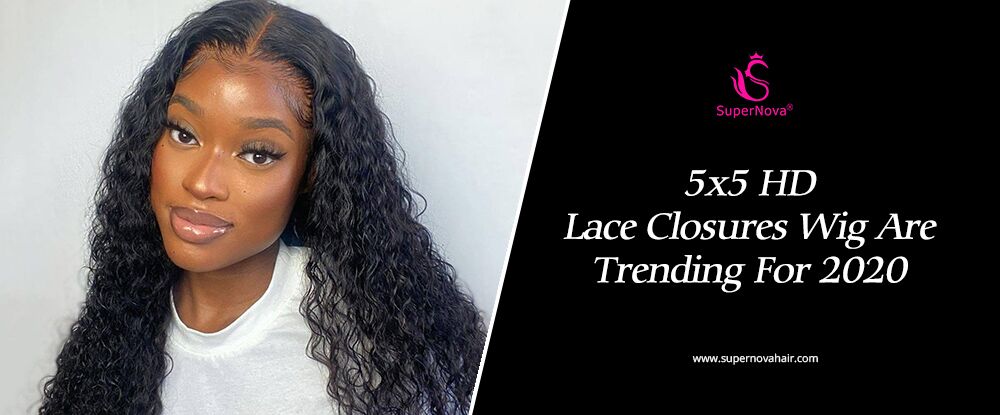 Do you know about it? Why it is popular? What the difference between it and ordinary lace? How to care an hd lace closure wig? Wait a minute. Today I'm going to take you through a more detailed understanding of 5X5 HD lace closure wig.
What Is 5x5 hd lace closure wig?
HD lace is a new name of Swiss lace, a kind of lace that is thinner and more see-through. According to the features of the lace material itself, HD lace (Swiss lace) is still much thinner, more delicate, and transparent than the normal transparent lace.
5x5 HD (High Definition) lace closure attached to a wig cap with machine sewn bundles, creating a full wig unit. The 5x5 hd lace closure wig is similar to the 4x4,6x6 hd lace closure wig. A 5x5 hd closure is placed at the middle front top of the head, the 5x5 hd closure sews with the human hair bundles can also bring a natural and beautiful hairline to people. But different from the 4x4 hd lace closure, the size of the 5x5 hd closure is 5 inches length and 5 inches width.
Hd lace is a type of lace, but it's lighter and more transparent than normal lace, and it fits all skin tones. When you wear it, it looks more real, as if it's on your scalp. If you don't want to hide the awkwardness of wearing a wig, this one perfectly sidesteps the problem and shows off your beauty.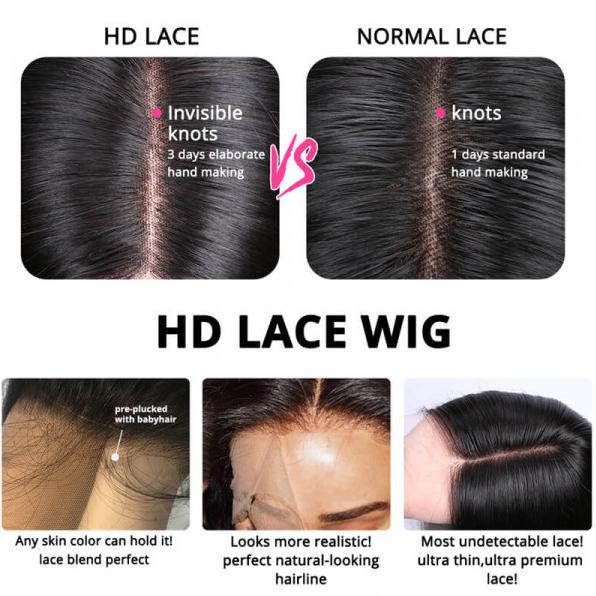 1. Swiss lace, which is more light, soft and delicate and looks more transparent than normal lace, which can melt into our skin more perfectly to make the hairline more invisible.
2. Soft Thinner and More Transparent Almost Like See Through.
3. Natural HairLine: Baby Hair Around, Pre Plucked Hairline, Natural & Beautiful. The HD lace base top closure with baby hair lets you have a naturally beautiful flawless hairline while protecting your own natural hair.
4. Free of chemical treatments to keep hair healthy and prevent from tangling, shedding, kinking and knotting.
How To Care HD Lace closure Wig?
1. Put the 5x5 hd lace closure wig on the bracket
The wig should not be thrown away when it is taken off. It should be placed on a stand.
2. Put hd lace wig in plastic bags when not in use
If there is a period of time not to wear hd lace wig , will put away the wigs, it not to be exposed to the air is best, easy to dust or messy, we should put the human hair wigs to the original use of wigs, or received in plastic bags.
3. Wash your hd lace wig regularly
Wigs clean to pay special attention to wigs, it can not be washed with hot water, it will destroy the quality of hd lace wig, and can not long soak in the water, after cleaning in the ventilated air place automatically dry.
4. The conditioner keeps it bright and lubricated
When cleaning human hair hd wigs must not rub with hand, see some hairpiece knots also do not want to pull,we should use protect hair element to keep smooth gently , use protect hair element human hair wigs can return bright beautiful, be like just bought.
5. Straight wigs with sparsely toothed combs
Usually wigs should be gently straightened out with sparse comb, clean the dust.Choose a sparser comb. In order to prevent a dense comb breaking a wig easily, a special comb for wigs can also be used.
6. Wet towel for crooked wig
If the straight hair becomes curly ,you must not use the hand to pull straight, it can easy to break hair.If you're too lazy to clean your wig, you can wet it with a towel and let it air dry to straighten it.
7. Care for hd lace wig with non-oily lotion
Hd lace wig used for a long time did not just like start to buy so beautiful, in fact, every day wearing a wig with non-oily maintenance fluid spray on the wig a few times, human hair wig can not only prevent static electricity, restore the original appearance, lubrication.
What Is The Difference Between hd lace closure wig and lace closure wig?
HD lace closure wig is a new kind of lace material, and lace closure wig is the normal lace with transparent color.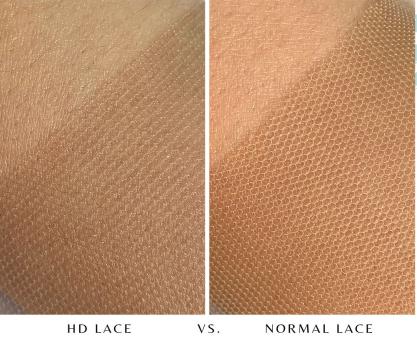 Both lace closure wig and the HD lace closure wig can create an invisible and natural hairline. But HD lace closure wig will be much closer to the skin than the normal transparent lace closure wig.
The HD closure wig for girls and the human hair lace wig both have the strong breathability, but the HD lace is much softer than the pre-plucked transparent lace wig. But the cost of an HD lace human hair wig is much higher than a lace closure wig.
The key to wearing a wig is to make it look as natural as possible. The HD lace (Swiss lace) is more see-through than normal lace, which can better melt into the scalp, and make the hairline look more natural and less visible.