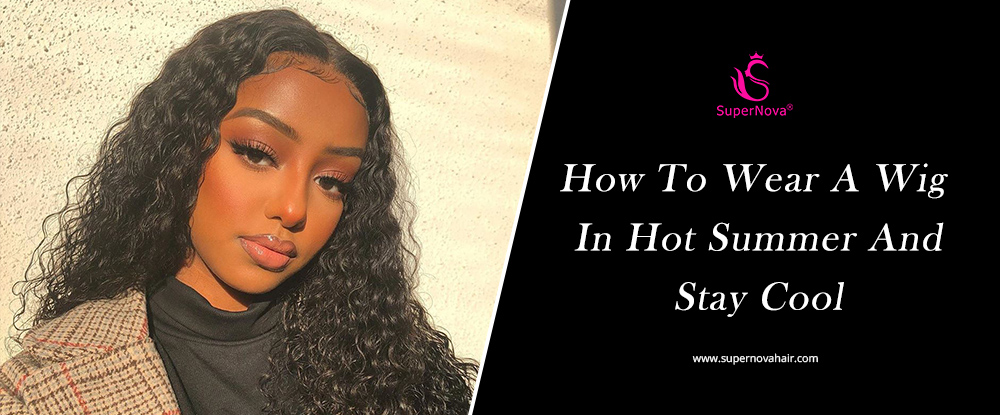 Summer is the time for fun in the sun! A change in the season means more than just a rising tempture—it's also the perfect time to change up your hairstyle! In the summer months, you want a wig that's stylish, flattering, and comfortable in the heat. Here are SuperNova wigs for summer time!
A short bob wig is perfect for those hot days and will allow you to change your style. There are so many beautiful, short wig styles for summer to choose from, including the bob wigs. Bob wigs are well breathable with 100% virgin human hair and high-quality Swiss lace. People may not feel hot even when wearing them on a hot summer day, and they have no side effects, either. Bob wigs wear artistically, facile, and are comfortable, has good permeability. Bobs can be worn with bangsto give a chic look. These types of hairstyles are popularly worn by Hollywood actresses.

If you prefer more hair length, choose a style that's shoulder-length or longer, so you can put it up in a loose ponytail or messy up-do. Now the shoulder length wigs in SuperNova hair has the crazy sale. Over $101 Cut $100. And the code is SUPER100. Shoulder Length Wig is that which ends between your shoulders and armpits. It mixes the best of short and long length hair to give a universal look. Medium hair length is the most popular hair length as it offers more versatility without being very difficult to maintain. You can customize it with bangs, waves or style it into a pony.

When wearing wigs in summer, it's best to pick lighter colors wigs. Lighter colors don't absorb as much heat as dark colors. It's something to keep in mind when choosing your summer wig color if you want to stay cooler in the sun.
When you wear a wig on a hot day, it is a great choice for you to choose a lighter colored wig as possible as you can. That is because the lighter color doesn't absorb as too much heat as the dark color so as to keep cool in the hot summer. Therefore, choosing some lighter colored wigs will have some impact on how you feel in the high temperature and may make a different feeling. The 4/613 highlight wig is so popular now.

Summer is a good time to travel, spend the holiday, swim, it is time to put the tips you have learned to use for enjoying the pleasure of summer. We hope you have a fresh, comfortable, cool summer!
Now there is the 618 amazing sale in SuperNova hair store. There is the lowest price flash sale discount wigs, Buy one get one free activity and there are the coupons which you can use them in your order. Over $159, cut $10; over $259, cut $20; over $359, cut $30. Don't miss the activity to choose the one to enjoy your summer day.