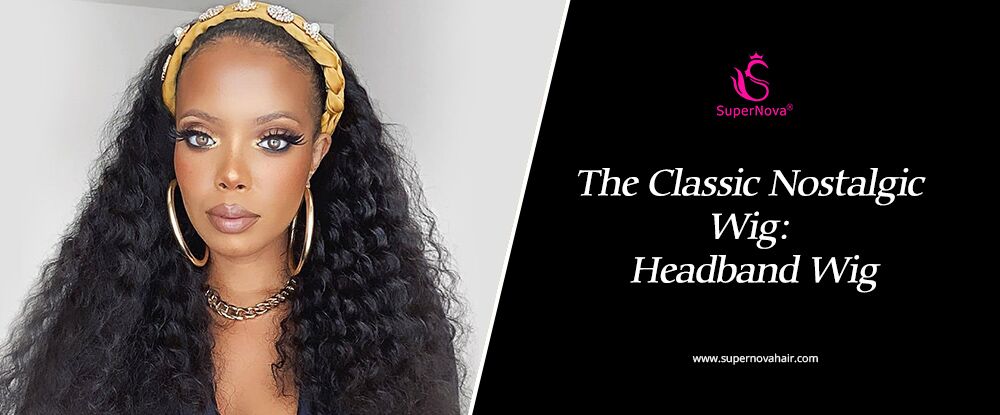 Fashion is the reincarnation of the game field. Recently the headband wigs have become more and more popular with the rise of the fashion of nostalgia. So what is the headband wig and how to install and wash it? This article will give you an answer.
1. What are classic nostalgic wigs?
The classic nostalgic wig means this wig was popular once, then after a short period of hibernation, it can come back into fashion. This popular trend for older products is to borrow retro looks from the past. Many older product identities can be made new and relevant to today's consumers. Just like the headband wigs, not only have the retro feeling but also have the modern function. There are 3 different hair textures of headband wigs in our store: curly headband wig, yaki straight headband wig, and straight headband wig. If you need other styles, you can please contact us, we also offer customized services, we will reply as soon as possible once we get the messages.
The headband wig is also named a human hair half wig, as it is made by some hair wefts sewed into a silk headband. There is no lace on the headband half wig, only a breathable elastic net cap covers 3/4 of your head, and an ice silk headband covers the rest of your headband wig. Now buy a headband human hair wig in SuperNova Hair, we will offer a free headband randomly to help you complete the whole wig style.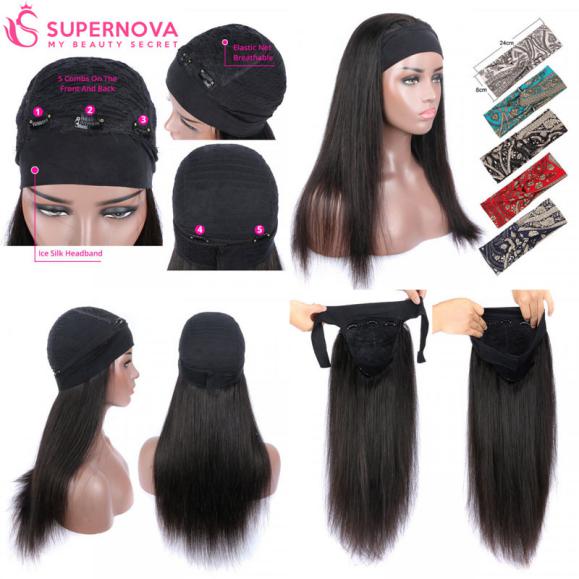 2. How to install headband wig by yourself
Wearing a headband wig is not as complicated as wearing a lace wig, it only needs to take 2 minutes to get a perfect installation. The detailed 3 steps please kindly check the below:
1) Firstly, you need to brush your hair and lay down your edges, keep your hair close to your skin. It will affect the final look later when you finish the whole installation.
2) Then you can start to put the headband wig on and find a perfect position on your head. There are one band with velcro and five clips on every headband half wig, use them to secure the wig.
3) As the hair on the forehead is your real hair, you can make up your natural baby hair directly. The final step is to wear a beautiful headband as you like and do hairstyles.
The whole process is easy and convenient, no need to do bleach, glueless, suitable for all kinds of customers.
3. How to wash headband half wig
As the headband wig is a non-lace wig, the wash and care method also is easier than lace wigs. Washing it without worrying about destroying the lace. But still, need to wash it with warm water and brush with a wide-tooth comb to avoid shedding and tangling. (Remember don't brush the wig when it is wet.) Using the showerhead is also better than a water basin. Then use some shampoos and hair-care products, rinse it with water and make sure you rinse all the soap out. Finally, put the headband wig in the wig stand gently to air-dry.
4. Tips For Making headband wig look natural
1) Leave out some of your own hair while wearing the headband wig, then you can do a natural hairline with baby hair on your real hair.
2) Brushing your hair gently before installing and make sure the hair close to your scalp. It is a great help to look more natural after wearing.
3) Using the band with velcro and five clips to secure the Head Band Wig tightly and make sure it is on a right position on your head.
Now we are under a new promotion of back to school sales. As a new product, all headband wigs are up to 46% off. After the basic 40% off, you can get an extra 6% off by Code"NEWWIG". Besides, you can see a bonus buy we prepared specifically on the checkout page while placing orders, you can get some special beautiful headbands at a exclusive low price only here. It will be a good match for your headband wigs.
Don't wait, come and get it!